Your Workshop Companion
Liberating Structures are easy-to-learn interaction methods that enhance relational coordination and trust. They put many simple but powerful methods in your hands to quickly foster lively participation in groups of any size, making it possible to truly include and unleash everyone.

This app helps you to get started by providing simple step by step guidance for learning and using Liberating Structures. Find the right structure for your challenge and get started!
App Features
33 Structures
Short descriptions briefly explain which challenges you can best overcome with which structure. Simple step-by-step instructions will get you going immediately so you can reach your goal quickly and with lots of fun!
Matchmaker
Find suitable Liberating Structures for your individual challenge with ease. The Matchmaker quickly offers you effective approaches.
Multi-Language Support
Liberating Structures were translated in multiple languages - and more are coming. Simply select the language of your choice within the app.
Workshop Companion
Plan your meeting in advance! Create your individual String, put your String into practice, be guided live by Liberating Structures app!
Ticket into the Community
Network with Liberating Structures users within the app. Share experiences, best practices and Strings with other active users. Become a member of the Liberating Structures Community.
What's YOUR next Feature?
Do you have THE idea for the app? Then share it with our developers now.
Contact us
By hand, with heart, by Holisticon
Holisticon engineers are developing the Liberating Structures app during 20% of their working-time, beside the ongoing customer projects, as a project of the heart. Holisticon is providing the Liberating Structures app to the community with joy and free of charge.
Our Products
Liberating Structures Design Cards by Holisticon
The Liberating Structures Design Cards help you to find the right structure for your cause. Your topic requires more than an isolated Liberating Structure? With our Design Cards, you can create strings creatively and visualize them together in a group.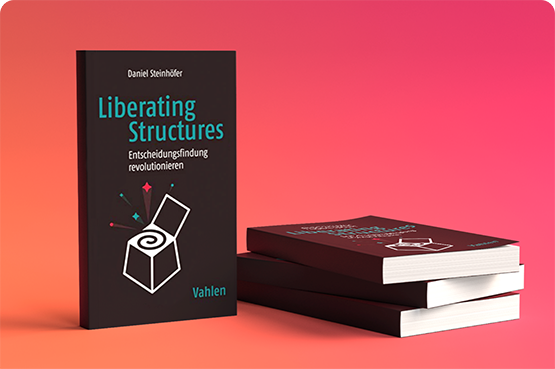 Liberating Structures: Revolutionize decision making by Holisticon
In the first German-language book on the subject, you will find methods for better decision making in an agile environment. With Liberating Structures you achieve powerful results that surprise and include all contributors: Liberating Structures promote lively participation all around.
Learn and Master Liberating Structures Find out more at Holisticon!
Our Website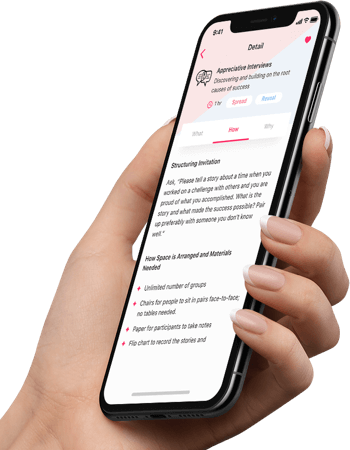 Testimonials
It is rare indeed to find a company that supports exploration and failing forward as they innovate. Consulting companies prefer to know the answer before there is a question. Not Holisticon. Their leadership and continuous support through user groups, app development, and immersive workshops has sparked a powerful movement across the European community. Evidenced by the rigorous way Holisticon supports their consultants and clients in creatively adapting Liberating Structures, I can say unequivocally "this is a great company that is inventing a radically new and more distributed way to work together productively." Hold onto your hats and socks.
- Keith McCandless Co-Developer, Liberating Structures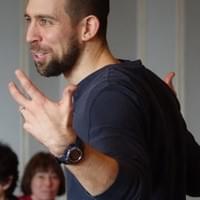 As a practitioner of Liberating Structures, I am frequently offering advice, guidance, and design suggestions to people getting started with the repertoire. I immediately suggest that they download the app developed by Holisticon. While all the materials in it are the same as what is on the website, I find the way they've organized it and chunked out the various elements that compose an LS to be very helpful for users. One of the more delightful experiences I have is watching someone lead a group using an LS with the app-in-hand helping them through the various steps. Those first few steps into using Liberating Structures requires a bit of courage and willingness to be awkward. I've seen the app provide people with just enough confidence to boldly take it on.
- Fisher Qua Co-Developer, Liberating Structures
I love to use the LS App on my iPhone! It's always at hand when I want to look up how a structure works. It gives me all the information on the structures that I need: General description, Howto, duration. As it's also available offline, I have access even when there is low or no Wifi available in the Office or when traveling by train and I want to learn a new structure.
If I could ask for something, there should be a German version of the app, and the opportunity to take notes would also be a nice feature.
Liberating Structures is a great method for unleashing a culture of innovation, and very easy to use, learn and practice. It gets even easier with the App, since we do not need to take the book with us around when we have any need to check out exactly Why, What and How each structure can be used. The App provides as well very helpful strings related to solving specific problems, so I can easily set up a focused workshop or a meeting using LS. Even without prior experience! I definitely recommend using this helpful App.
I use the app regularly in my workshops and seminars. It gives me a quick and compact overview of everything important, so I don't have to keep everything in my head and can just sneak a peek in between. And my experiences in working with the app become direct feedback for the developers.
Optimize your Workflow!
Integrate Liberating Structures into your daily work routine. A structured app and powerful methods make it easy for you to optimize your workflow and create meetings that inspire.